Sen. Ruth Johnson urges Benson to still reopen SOS offices to walk-in services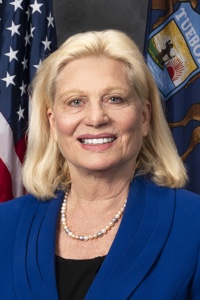 LANSING, Mich. — Sen. Ruth Johnson, R-Holly, issued the following statement after Secretary of State Jocelyn Benson announced on Tuesday that she is adding more appointment slots for branch offices — including more next-day appointments — and prioritizing people who need disability placards:
"I am really happy to see the secretary of state finally listening to Michigan families and making some changes to help people. I also appreciate that they are responding to specific concerns for customers with disabilities. However, it took far too long to make these commonsense changes, and Secretary Benson still needs to reopen the branches for same-day service.
"It is my hope that the secretary of state will support my bill to waive late fees for people right now until the offices are reopened. The bills the Senate are considering this week would also extend the expiration date for driver's licenses and registrations so that people aren't getting $200 tickets because they couldn't get an appointment in time."
###