Sen. MacDonald introduces opioid abuse education bill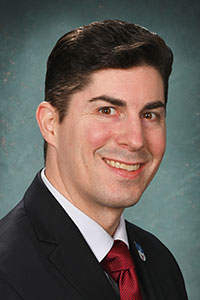 LANSING, Mich. — Sen. Michael D. MacDonald on Thursday introduced legislation to ensure all Michigan high school students learn about the dangers of prescription opioid abuse.
"Opioid abuse has reached epidemic proportions in our state and nationwide," said MacDonald, R-Macomb Township. "We have seen the terrible impacts of opioid addiction in our local communities and throughout the state — where opioids take the lives of hundreds of Michigan residents every year."
According to the state, more people died in Michigan in 2017 from drug overdoses than from car crashes — and nearly 2,000 of the overdoses were from opioids.
"A key part of winning the battle against opioid abuse is teaching our children about the dangers of prescription painkillers and the risks of addiction," MacDonald said. "At this point in their lives, many teenagers are prescribed opioid medications to deal with pain from sports injuries. It is critical that they understand the risks and possible alternatives to taking these addictive drugs."
Senate Bill 386 would require the state to develop or adopt an instructional video regarding the dangers of prescription opioid drug abuse that is appropriate for ninth-grade students and make the video available to all public schools that have ninth grade. By the 2020-21 school year, public schools would need to implement the video into the ninth-grade curriculum.
"My bill seeks to educate our young people about these drugs by utilizing a video developed by the Macomb County-based Families Against Narcotics organization," MacDonald said.
Founded in Fraser in 2007, Families Against Narcotics is a grassroots organization dedicated to educating young adults, parents, school personnel, law enforcement, judges, doctors and other health care professionals about the dangers of prescription drug abuse, especially painkillers. It currently offers over 34 monthly support meetings across the state and has 22 Michigan chapters.
SB 386 has been referred to the Senate Education and Career Readiness Committee for consideration.
###