MacDonald supports Macomb County for U.S. Space Force headquarters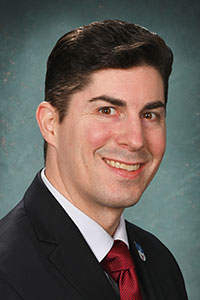 LANSING, Mich. — Sen. Michael D. MacDonald has introduced a resolution urging the U.S. Congress, President Trump, and the U.S. Air Force to consider Sterling Heights as the location for the headquarters of the new U.S. Space Force.
"Space is the final frontier, and Macomb County is uniquely positioned to lead the way in developing and protecting our national interests in space," said MacDonald, R-Macomb Township. "Together with a possible new satellite launch and command center in the county, bringing the headquarters of the new Space Force to Sterling Heights would build on our tremendous talent, technology and military infrastructure.
"It would boost our economy, offer exciting new opportunities for Michigan and provide the Space Force with everything it needs to be successful in accomplishing their mission."
The Space Force is a new branch of the armed forces, established in 2019. It is currently housed within the Department of the Air Force under the responsibility of the secretary of the Air Force.
However, the Space Force is working to establish a fully functioning headquarters to execute the full scope of its mission, and the city of Sterling Heights has submitted a nomination for consideration as the location for the future headquarters.
Senate Resolution 135 supports Sterling Heights' nomination and notes the city is located near the Arsenal of Democracy, a world-renowned defense business corridor known for innovations, access to elite industrial and academic institutions, and a highly skilled and educated population.
"Sterling Heights is the ideal location — with superior facilities and infrastructure — to headquarter the new U.S. Space Force," MacDonald said.
SR 135 has been referred to the Senate Committee on Families, Seniors and Veterans for consideration.
###