Lucido's bill to protect incapacitated persons' right to see loved ones passes Senate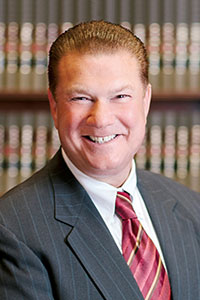 LANSING, Mich. — The state Senate on Wednesday approved legislation that would help protect the visitation rights of individuals wishing to spend time with a loved one who is under the care of another but is being prevented from seeing the person by a guardian.
"Too often we hear of cases where a parent is being denied access to their children because of a former spouse or partner, but more and more, children of elderly parents are being denied visitation because a sibling or other relative who is taking care of them won't allow for a visit," said Sen. Peter J. Lucido, R-Shelby Township, the bill sponsor. "It is a sad reality, and my bill will help to correct the problem. Simply put, people should be allowed to visit loved ones if both people want to — even if somebody else doesn't like it."
Specifically, Senate Bill 110 would allow courts to appoint a limited guardian to supervise an incapacitated person's access to relatives or others. After a clear and convincing finding that a guardian was denying access to an incapacitated person and that person would be best served by having a relationship with the person seeking access, the bill allows a court to appoint a limited guardian to supervise access with the relative being denied access.
Currently, a person who has been named as the guardian or conservator of an incompetent parent or other adult family member has control of visitation and contact, which allows them to deny others contact.
SB 110 now goes to the state House of Representatives for consideration.
The bill is one of several that Lucido has introduced this year to help protect the elderly and vulnerable adults.
He previously introduced SBs 108 and 109, which would allow for the one-year imprisonment of anyone convicted of committing assault and battery on a vulnerable adult, and five years for a second or successive offense. SBs 412 and 413 seek to crack down on people who are convicted of stealing, embezzling or transferring property from a vulnerable adult by increasing the penalties for these crimes by up to one year of imprisonment and a $1,000 fine for a first offense to as much as 25 years and a $100,000 fine for three or more offenses.
In March, Lucido was named as one of four members of the state Legislature to serve on an Elder Abuse Task Force, which includes representatives from over 30 different organizations, from law enforcement and advocacy groups to state agencies, the Legislature, Congress and the governor's office.
While chairing the task force's Committee on Mandatory Reporting by Financial Institutions, Lucido developed SBs 464 and 465, which would require financial institutions to work to prevent financial exploitation.
SBs 108, 109, 412 and 413 were approved by the Senate Judiciary and Public Safety Committee and await further action by the Senate. SBs 464 and 465 were referred to the Senate Insurance and Banking Committee for consideration and Lucido is hopeful they will receive a hearing soon.
###